We work on a large number of projects each year, and all of them have their notable features. This one sticks out to us because it shows how much of a dramatic difference can be made with just a few small, simple changes. We were so happy to help this homeowner out with some bathroom remodeling in Edina. They had originally called us to discuss the possibility of finishing out a half bath in the basement, and were open to the idea of also replacing some flooring in the master bathroom. However, once we saw their home we realized that a big difference could be made in their master bath. When we suggested some changes to the wall tiles in the bathroom, they loved the idea. Once we had ironed out the details, we provided them with an estimate.
Home Remodeling Contractor Work Begins
When all was said and done, the homeowners opted for some new wall tiling, updated fixtures, and accents with a runner-like feature for those new fixtures. The added functionality in the bathroom was what they were most excited about. With variable direction and spray, this shower was now providing a spa-like experience that completely outstriped the very simple and plain shower that they had installed previously. Finally, to set everything off, we also were able to add some shelving space. They ended up also being very excited about the matching accenting on the shelving space, which gave the shower a very comfortable and modern feel.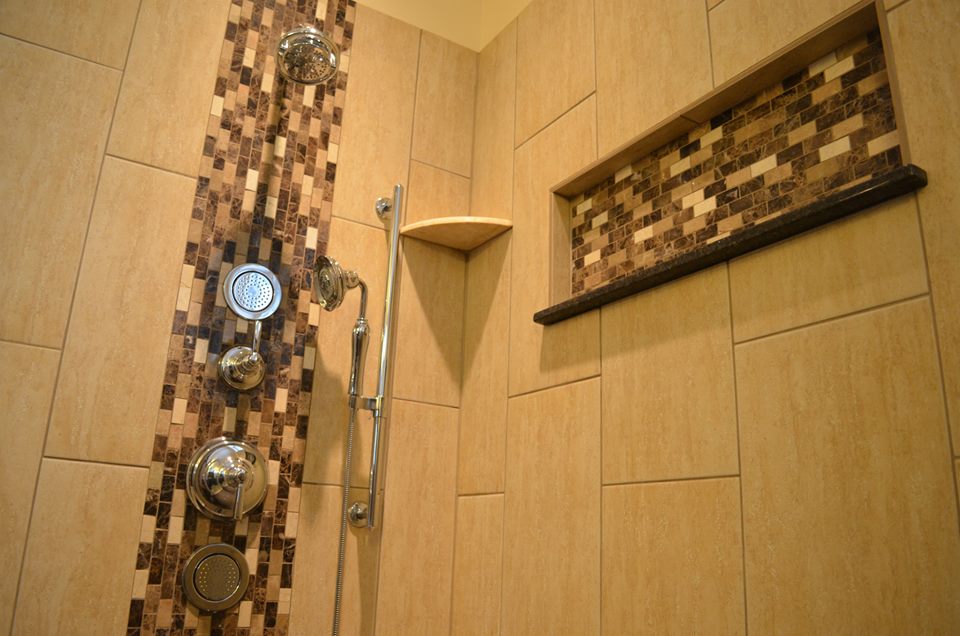 Our crew arrived on the day that had been previously arranged between us and the homeowner during our final initial meetings. The first thing that needed to be done was removal. This is when we take out all of the old stuff that won't be there anymore. In this case, the downstairs basement didn't need much removed since it was in about a half-completed state. However, the overhaul in the master bath was a bit of a different story. We had to cleave out all of the existing tile, and also install some new plumbing and electrical infrastructure to make way for the upgrades in fixtures.
Once all of that had been completed, it was time for the fun stuff. The couple was really wowed at how the bathroom was transformed from the old version to a completely bare setup, and then into the bathroom that we had all planned together. When all was said and done, the family was absolutely thrilled with the way their new master bathroom had turned out. The little things always seem to count for a lot, and for this bathroom we got many comments on how great the shelving and storage space was. Before, they had simply kept their shower products on the floor of the old bathroom! We were very satisfied with this job, and are looking forward to more like it.