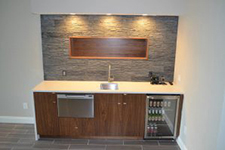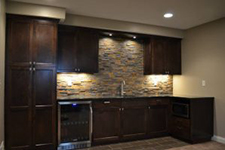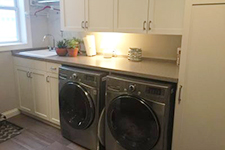 Basement Remodeling Contractor
Basements don't need to be dark, damp, musty, cold and neglected storage spaces. They have so much potential and should be treated just like the other levels of your home. Whether you just want to finish off your livable space in your basement or you're looking for a custom game room or man cave, Struction Contracting can turn your vision into reality. There are so many great ideas that we have seen in our time doing basement remodeling. Many people use them for extended living space and recreational or entertainment purposes, which is why we understand how important the space can be. We know how much time can be spent in a great basement, and it's been our pleasure to help our customers have their dreams come true.
There are dozens of reasons to finish or remodel your basement. Of course, the first and most important is that it is a part of your home, and can be used in any way you see fit. Finishing your basement will not only add hundreds of unused square feet, but it will also boost your home's resale value without having to build a new addition. Let your basement become a cozy gathering place your family will actually want to relax in and enjoy. When you need a basement remodeler to help with your project, we will be here for you to make sure the job is done on time and with quality workmanship that you can count on for decades.
Struction Contracting is there with you from design to finish. The first step in our process is helping you decide exactly what you want your basement to look like. This is the beginning of the design process. Our design team is an absolute joy to work with, and their experience will benefit your finished basement as well! We can help you with suggestions for design features you may not have even considered, and that's because we have seen and built many basements from very simple designs to incredibly complex ones.
On this page you'll see just a few examples of what we can do to transform your basement into a unique space specially designed for you to enjoy.